---
The Band
auf Deutsch übersetzen
"Macanto is a German band with international musicians and stands for a mix of Funk, Jazz and Pop, with lots of Latin elements. With Macanto you will experience a variety of styles – from jazz standards to interesting new interpretations of chart music and numerous originals. Both instrumentally, as well as with male and female vocals alternating, this band offers a diversivied program. "
For the typical MACANTO Sound
book us as a quintet or sextet

---
Prices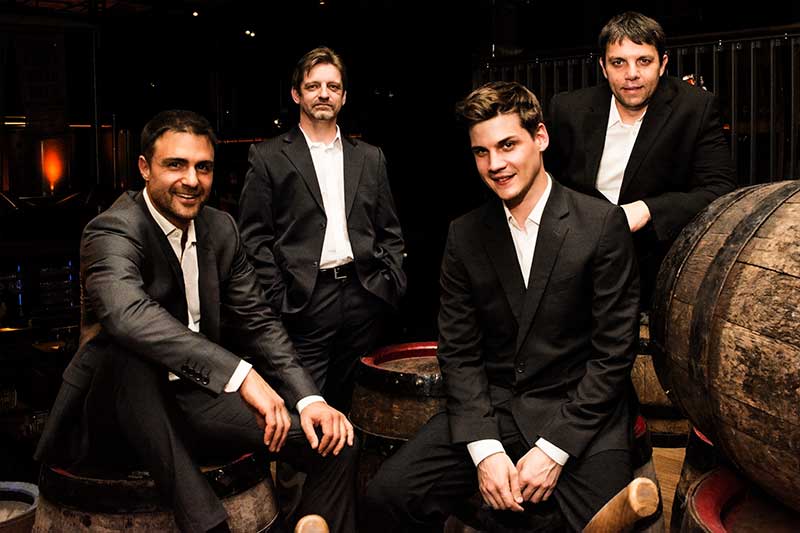 We always create an individual offer for your event. Only that way we can guarantee your satisfaction.
The equipment for an audience of up to 50 guests can be provided by us free of additional cost. The requirements are always different depending on the location. We are happy to advise you on this matter. Great sound and high satisfaction of your guests is mandatory!
Ask us for an "All Inclusive Offer!"

---
Our Musicians
Dessy Hristova / Patrick Granado / Raphaela Mayr / Hernan Isla – Vocals
Alex Hafezi – Piano, Vocals, Producer, Mixing Engineer
Nick Herrmann / Martin Seide – Drums
Tomasz Moskwa – Bass
Georgi Kostov – Guitar
All band members are longtime musicians with different musical and cultural influences, which complement each other perfectly in the collective.
---
New Year's Party with Macanto
Whether Cover or Original – we have the right program for your event
For all who love Jazz / Funk / Soul and Latin!
We can perform covers as desired or fill an evening with original compositions; danceable or smooth … but always with a groovy note. Varied elements of Latin, Jazz, Funk & soul give the performance spice and surprises the audience, yet always with catchy melodies in the foreground.
---
We are happy to advise you on various options for your music event. If you are based in the Augsburg / Ulm / Munich area, we can visit your location on site in order to assemble the best possible individual offer for you.
An example: You open a jewelry store and look for musical entertainment in the background. It would be worthwhile to put together a program in which "gold, diamonds, money, silver" occur; such as Goldeneye (Tina Turner), Diamonds (Rihanna), Diamonds and Pearls (Prince), …
We can be very specific here! Talk to us.
For Musicians
If you would like to have one of your songs arranged and played by us, please contact us! We have good contacts to various media sectors.